STAFFONLY is an energetic contemporary menswear brand established in London. Two creative minds and lifelong friends, Shimo Zhou and Une Yea, have been working and learning closely since the debut of their first collection in 2015, after their graduation from LCF and RCA respectively.
STAFFONLY illustrates unlimited imaginations which beyond the word itself. They focus on the logic hidden from the appearance and the sense of communal recognition from the groups and communities. The development on the fresh concept and identity is the essential first step in the symbiotic design process. It leads to a series of curated materials and colors choices for an ironic and provocative take on fashion that is enhanced by functional and sculpted silhouettes. They visualized that " a STAFFONLY man always has an abundance of curiosity and a sense of humor, and he is willing to break the boundaries and to explore the unknown era of the world."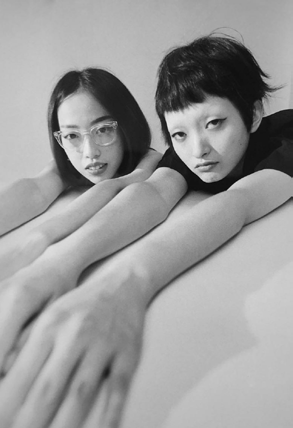 DESIGNER
Shimo Zhou
Graduated from London College of Fashion BA womenswear in 2013 then obtained a distintion degree in MA menswear in 2015. She has worked in several fashion houses includes Alexander McQueen / Erdem during her study in London.
Une Yea
Received the MA degree in accessory design from the Royal College of Art in London and shown her graduation collection as finale on the graduation show. Her design always containing sharp ideas and avant-garde appearance. She won the "Best Fashion Item" in paris "Who's Next" 2014 fashion award. She worked as menswear designer in Armani headquarter in milan before established the brand.