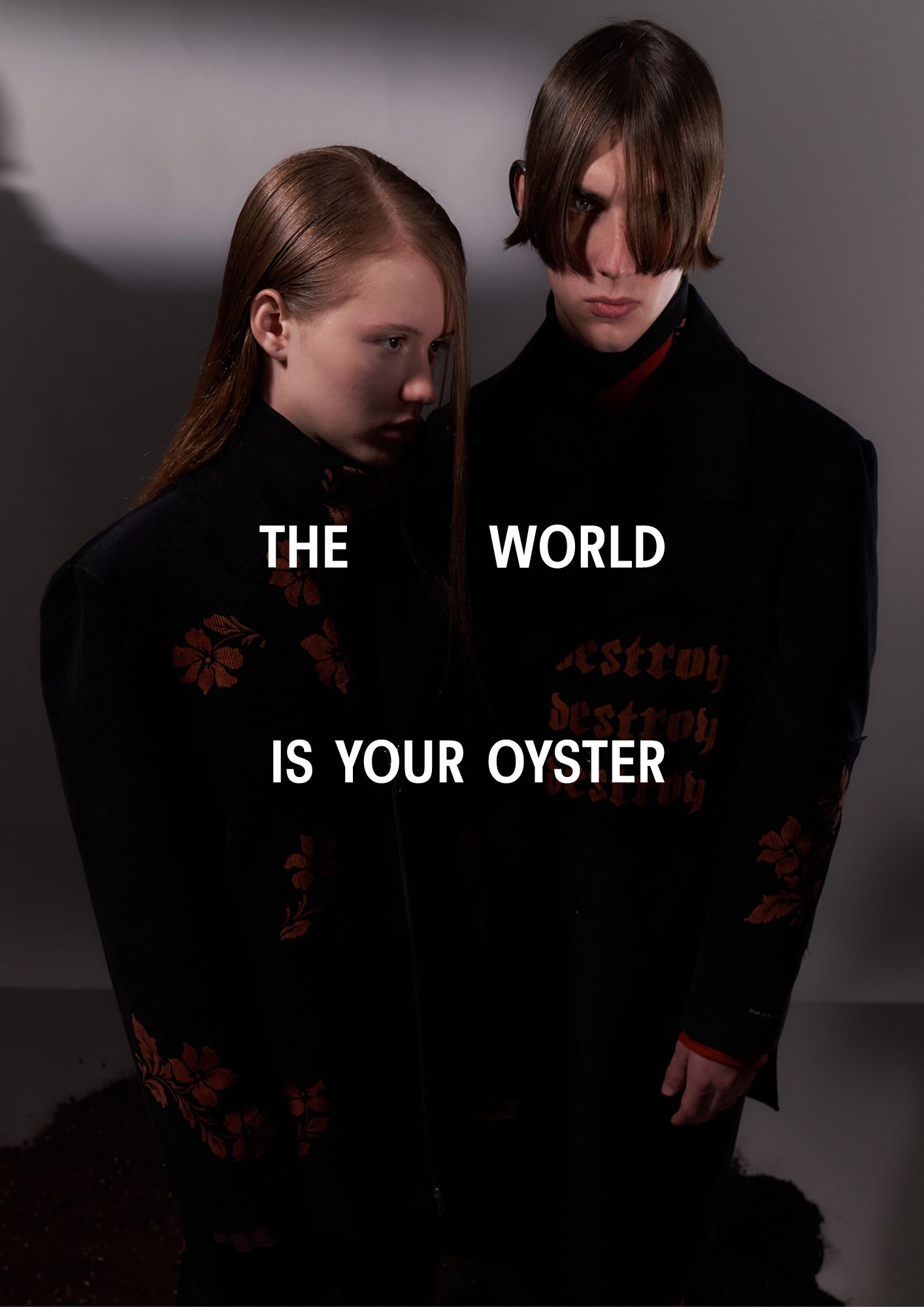 The World Is Your Oyster is about exploration, experimentation and emotion.
Unapologetically unconventional and compelling, The World Is Your Oyster encourages wearers to proudly stand out with designs that capture style and celebrate a way to live.
Created for a new generation of gentleman, every design is rich in character. Juxtaposing traditional, clean silhouettes with imaginative, modern details, the label creates clothing for open minds, free spirits and poetic souls.
The ready-to-wear collections never compromise on quality or style, and are made with the finest Japanese and Italian fabrics to deliver functionality and versatility.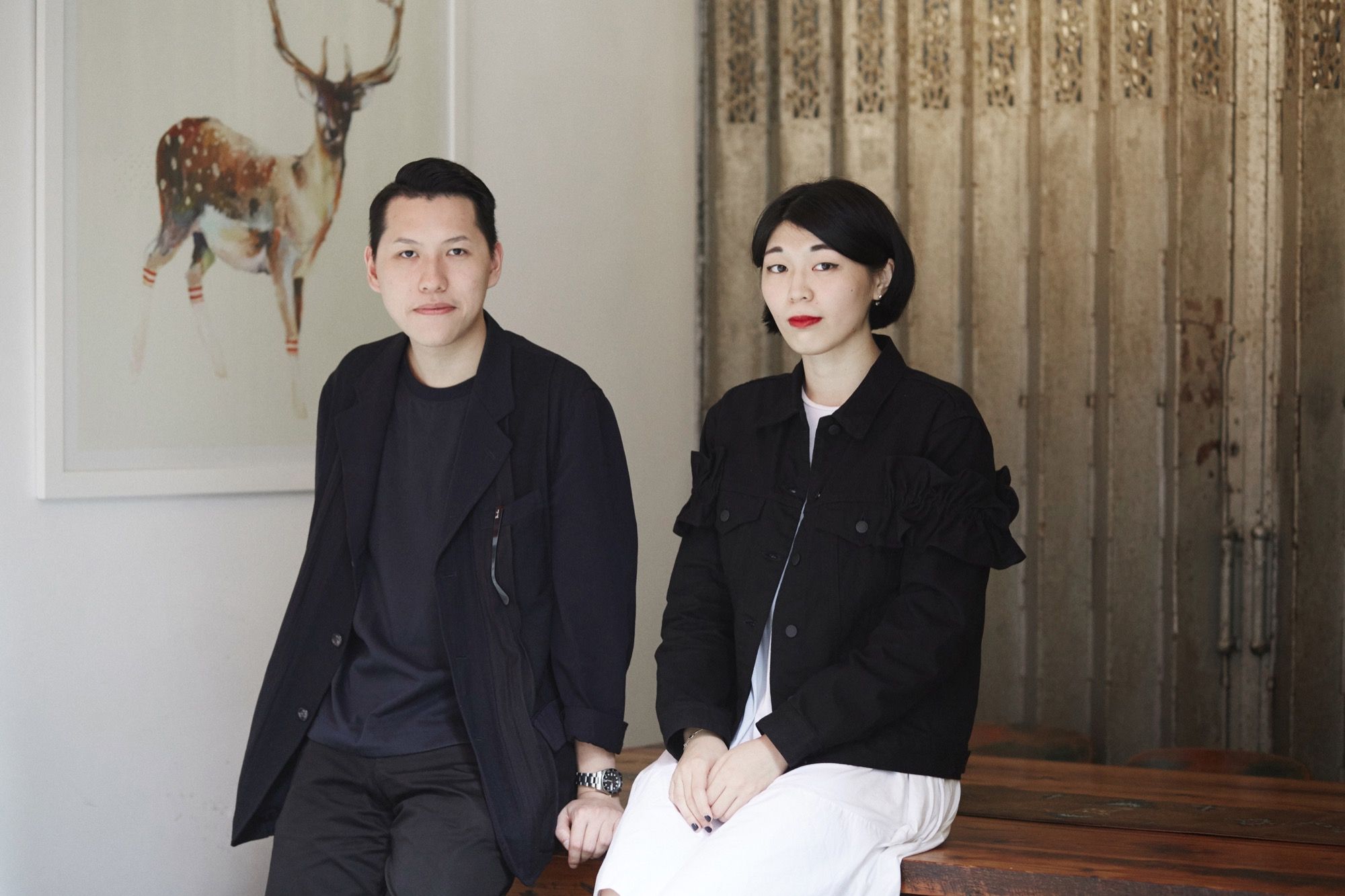 DESIGNER
Established in 2014 by design duo Calvin Chan and Joyce Kun, The World Is Your Oyster is a Hong Kong-based contemporary menswear label. The pair share vibrant and accomplished backgrounds in fashion and design—Calvin studied Fashion Design & Product Development at the Hong Kong Design Institute and Joyce studied Fashion & Textiles (Knitwear Design with Technology) at the Hong Kong Polytechnic University.
Together, they identified a gap in the market for introspective menswear and sought to create a range that expanded the traditional parameters of this category. Their designs caught the attention of JOYCE boutique, who invited them to create a pop-up store in PMQ. Their collections were warmly received, sparking a collaboration with the JOYCE team, as they designed uniforms for the staff across the JOYCE China and Hong Kong boutiques.
The pair have received numerous accolades, including 2014 "The Next New" campaign of Lane Crawford Winner, participants in the JOYCE Boutique Talent Shop Programme and were named one of the "10 Asian Designers to Watch" Fashion Asia 2017 Hong Kong. They have as also received personal design awards such as the 2015 Hong Kong Young Design Talent Award (Calvin Chan) and the 2017 Fashion Xiongan Designer Award (Joyce Kun).
A/W 2020
涅槃重生
"涅槃重生"系列选用羊绒混纺羊毛、毛绒灯芯绒等触感丰富的面料,采用品牌开发于2019秋冬季的非传统漂白、喷涂及剥离技术而创作。秉持该品牌的经典特色,此秋冬系列的设计将传统男装阳刚的剪裁与柔美的女性化细节巧妙糅合。以往被认为对奢华面料的破坏与污损,在此衍生成为一种全新的创作方式,加之细腻花卉与印刷图案,尽现诗意叛逆之独特风格。
即使经过特殊处理,这些奢华面料仍保留了柔软舒适的特质,"破坏性"的处理亦丝毫没有影响时装的可穿性。此系列中的亮点包括黑色灯芯绒套装、罗纹运动衫和混合罗纹针织毛衣,均采用设计师经典剪裁并饰以漂白花卉图案。此系列的一款羊毛长大衣更选用了全球柔软度最高的面料之一 – 双面羊绒,通过剪裁与剥离,展露内层结构,借此倡导正视每一个人内心之主题。
风衣的设计则选用洋溢着温馨感的羊毛卡其布与黑色灯芯绒面料,同样以漂白的花卉与印刷图案,创造出明艳的画布风格,视觉效果独一无二。