CISSY SHI is a jewelry brand that is made for women from a woman's point of view.
Created by designer Cissy Shi in 2016, the epony- mous label aspires to captivate the creative energy of the modern woman in all of her idiosyncrasies, distinct points of view, and resilience.
Drawing from the fluid identities and sensitivities of the fashion and design-conscious women around her, Cissy Shi continues to find inspiration from her daily interaction with her environment and the dynamic creative energy that radiates from within. Each piece is borne from Cissy Shi's imaginative translation of universal shapes and motifs into wearable objects that contain all the attitude, daring fashion, fun and sense of humor that can be transmitted by a small piece of carved metal.
In Cissy Shi's universe, jewelry is not merely a piece of pretty adornment – it is a vessel that carries and expresses the wearer's emotions, memories, and dreams.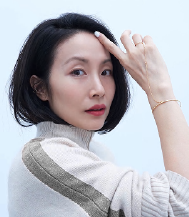 DESIGNER
Cissy最初在一个顶尖的广告公司做品牌顾问,她有过广告人、创意人、时尚人等多重身份。
由于对时尚敏锐的感知力,她成功地将自己转型成了一名设计师,推出了同名首饰品牌,并引起了众多时尚业内人士的关注。Cissy将自己多样的时尚嗜好、敏锐的潮流品味,呈现在源源不断的创意设计之中。
她致力于让每一个时尚份子都能轻松拥有个性时髦、独具风格,且价格合理的时尚饰品。